A Cappies Accreditted Theatre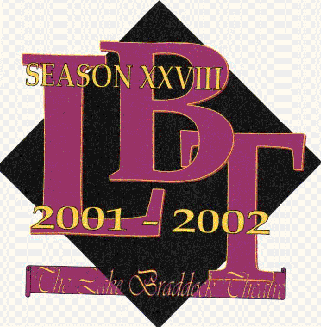 LBT'S X-ECUTIVE BOARD FOR THE 2001-2002 SEASON
At the end of last year, four new board members were elected by the freshman, sophmores, juniors, and graduating seniors. The nominations and voting were all done by the students to choose our current members.
| | | |
| --- | --- | --- |
| Master Electrician | Sean Pollin | |
| Business Manager | Liz Murray | |
| Scenic Director | Kat Purgal | |
| Technical Director | Adam Lowe | |
THIS SITE IS DEDICATED TO THE MEMORY OF THE FIRST ITS CURATOR
MICHAEL ATCHLEY
1980-1999
LBTA
The alumni of of the Lake Braddock Theatre Are Coming Back!
THE LARAMIE PROJECT
"The Laramie Project" is a collection of interviews with the people of Laramie, Wyoming where college student Matthew Shepard was beaten and left for dead by two residents in 1998.
Featuring performances by 38 graduates of the Lake Braddock Theatre from 1992-2001
Juli Allred, Sarah Apgar, Andrew Blakeney,
Amy Boyton, Dan Brown, David Burns,
Julie Cameron, Enoch Chan, Taylor Coffman,
Jesse Dean, Sean Evans, Elizabeth Goldman,
Alex Gomez, Michael Hock, Barbara Howlin,
Michael Innocenti, Carly Jehlen, Janice Laccone,
Amy Lawrence, Abbey Levinson, Matt Lopez,
Victor Lopez, Dan Mecready, Kristen Meek,
Athena Oliff, Michael Patrick, Rachel Lee Poole,
Yillah Rosenfeld, Jennifer Sizemore, Jeremy Strohl,
Mike Sullivan, Evie Trester, Vanessa Vickers,
Brain Walquist, Evie Trester, Pamm Wertham,
Bobak Zarrinnahad, Jocelyn Waite, and Roya Zarrinnahad.
Directed by R.L. Mirabal,
Artistic Director of the Lake Braddock Theatre (1991-present)
Performance dates: Friday, August 9th and Saturday, August 10th, 2002 8PM
Lake Braddock Little Theatre: All Seats $10
All proceeds to benefit Bruins in Kilts, The Lake Braddock Theatre 2003 performance at the American High School Theatre Festival in Scotland.
Parental Guidance is Suggested
For tickets call: 703-455-1762 or e-mail Lbttickets@aol.com
Site Last Updated: Wednesday, July 24, 2002
Click Below to View the Cappies Page as well as the Nominations for Other Area Schools